Get Straight Teeth with Clear Braces in Casper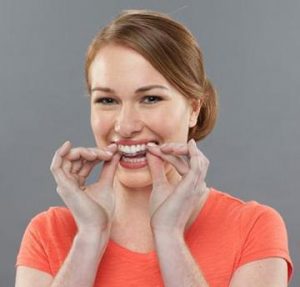 Aspen Ridge Dental is proud to provide Invisalign invisible braces for Casper patients. Now you can show off your smile during and after your comfortable treatment!
The innovative Invisalign trays are convenient and effective. Place the aligners over your teeth, and remove them to eat or clean your teeth. The best part is, most people will have no idea you're wearing braces.
Unlike traditional braces, invisible braces are smooth and irritation-free. Even though treatment is simple, it will still give you beautiful straight teeth!
I've been going to Aspen Ridge Dental for years now, and they have ALWAYS taken care of my wants and needs with no hassle or pain. I have had appointments for regular cleanings, cavities and fillings, Invisalign and more, and couldn't picture going anywhere else! Everyone knows me by name, asks how my family is doing, and makes me feel welcome and comfortable, no matter what the visit is for. They also provide a great Wellness Program for people who don't have dental insurance. I LOVE the Aspen Ridge Dental team and suggest them to anyone looking for a trustworthy and comfortable dentist experience. ~ Cassandra B.
The Journey to Straight Teeth
Invisalign involves a series of clear removable aligners that produce straight teeth without brackets or wires.
Our doctors will conduct an exam, complete with x-rays, photos, and impressions.
We use this data to map out a treatment plan customized just for you.
We can show you virtually how you can expect your teeth to move from stage to stage of your Invisalign treatment.
Every few weeks, you will replace your aligners with the next trays in the series. Your teeth will move little by little until you have an amazing straight smile.
Total invisible braces wear time is just one year on average for adults. Whether you choose traditional Invisalign or Invisalign Teen, your treatment will fit easily into your lifestyle.
Why Choose Invisalign at Aspen Ridge Dental?
Invisalign invisible braces offer benefits including:
Easier brushing and flossing
A discreet look
More dietary choices
Greater comfort
Teeth grinding protection
In addition to this, we offer great promotions and discounts for Invisalign here at Aspen Ridge Dental! We love Invisalign and the benefits it provides our patients who are wanting to straighten their teeth without the hassle of braces, and we truly have the experience in providing clear braces here in Casper. We'd love to tell you about what makes us different compared to other dentists who offer Invisalign, so give us a call today to learn more!
Cost of Invisalign
Normally, the full Invisalign procedure, including full comprehensive case analysis and planning and unlimited trays costs around $7000 at most dentist offices. At Aspen Ridge Dental, however, we're currently offering Invisalign treatment for 50% off, for up to a $3500 discount! Why go anywhere else for Invisalign!
Invisalign Teen
Metal braces aren't always ideal for teenage patients. Teens prefer a subtle braces look that doesn't inconvenience their lifestyle. Invisalign Teen allows young patients to continue to eat whatever they want and remove their braces briefly for swim meets, football games, and band practice.
Let's Talk Today
To discuss Invisalign or Invisalign Teen with our team of experts, give us a call at Aspen Ridge Dental in Casper today.
Related Content