TMJ Headache Relief in Casper, WY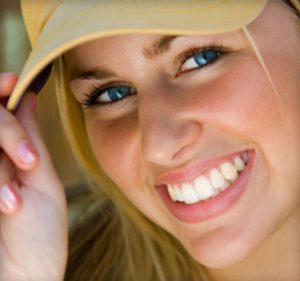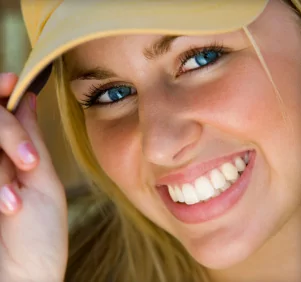 Wish you could be free from painful headaches? Have you asked your dentist about TMJ treatment for headache relief? Many times, migraines and chronic headaches can be caused by TMD, a condition in the jaw joints.
TMJ Disorder
The temporomandibular joints, or the TMJ, are the joints and jaw muscles located on either side of the head that control jaw movement. The movement of the jaw incorporates muscles, ligaments, and the bone itself that work in harmony to allow you to chew and speak.
Any issue that hinders the ball and socket of the TMJ can lead to TMJ disorder (TMD). Diagnosis is the first step to headache relief.
Symptoms of TMD
Some patients visit various specialists to determine the cause of their head pain and other symptoms, such as:
Jaw pain
Clicking in the jaw
Limited jaw movement
Tired facial muscles
Pain in the neck, shoulders, and back
Ringing or buzzing in the ears
All of these symptoms point to TMJ disorder, or TMD.
TMJ Mouthguard Therapy
At Aspen Ridge Dental in Casper, our preferred TMJ treatment is with mouthguard therapy. The TMJ mouthguard is a small device fashioned to fit over your upper teeth, protecting them from wear. The appliance can also reposition the lower jaw.
Overall, mouthguard TMJ treatment works to relax the TMJ muscles and provide headache relief. While simple, TMJ mouthguard therapy is an effective solution to TMD and can eliminate all of its symptoms.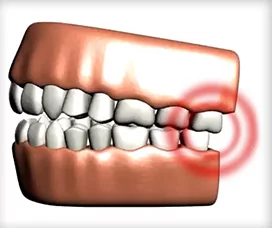 This TMJ treatment method is:
Small and portable
Easy to clean
Highly effective
Other treatments may include TMJ massage, exercise, bite adjustments, or surgical intervention. Often, bite guard therapy is all that is required to restore your health and comfort.
Causes of TMD
The exact cause of TMD is not always clear, and there may be a combination of factors that contribute to its development:
Bruxism: One of the most common causes of TMD is bruxism, which is the grinding and clenching of teeth. This puts a lot of pressure on the jaw joint and can lead to muscle tension and pain.
Injury or Medical Conditions: Other factors that can cause TMD include trauma or injury to the jaw, arthritis, stress, and certain medical conditions like fibromyalgia.
Orthodontic Issues: TMD can also be caused by an uneven bite or malocclusion, which means that the teeth do not align properly. This can lead to a misalignment of the jaw joint, which can cause pain and discomfort.
Poor Posture: Another potential cause of TMD is poor posture. This is because the muscles in the neck and upper back are connected to the muscles in the jaw, and poor posture can lead to tension and strain in these muscles. This tension can then be transferred to the jaw joint and contribute to TMD.
Overall, the causes of TMD are complex and caused by many things. A comprehensive evaluation by a dental professional is necessary to determine the underlying cause of the condition.
What Is Bruxism?
Bruxism is a common condition where individuals grind or clench their teeth unconsciously. This can lead to a variety of dental issues, including worn or cracked teeth, headaches, and jaw pain, which can ultimately result in temporomandibular joint disorders (TMD).
The excessive force applied to the jaw muscles and joints can cause inflammation and damage to the TMJ, which connects the jawbone to the skull. Over time, this can result in chronic pain and dysfunction of the jaw.
If you have bruxism and want to prevent TMD, here are some tips you can follow:
Identify and manage stress levels.
Try meditation and other relaxation techniques.
Limit consumption of alcohol, caffeine, and nicotine.
Use a dentist-prescribed mouthguard at night.
Find TMJ Pain Relief in Casper, WY, With Aspen Ridge Dental
Only your dental professional can fabricate, fit, and monitor your bite guard. If you or your loved one is experiencing any of the signs and symptoms of TMD, we would be happy to consult with you at Aspen Ridge Dental. Give us a call in Casper today!
You May Also Be Interested In